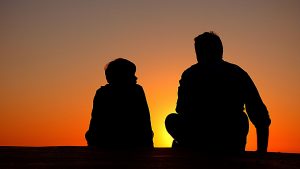 "Do as I say, not as I do." … how many times did you hear that when you were a kid? Too many times, from my perspective. There was hardly anything that twerked me more when I was a child than that specific statement. It smacked of a double standard and hubris that made me want to rebel, NOT conform.
As a parent I find myself swallowing those exacts words as they try to rise from my throat and escape past my lips.
What?! You mean that we're supposed to lead by example?
Lead By Example
Recently I was talking with the principal of our kids' school about what good communication looks like and how important it is for us adults to be that good example. Let's face it, kids are sponges and are constantly learning from what they see, hear, and feel in their environment. As parents we have the honor (and sometimes challenging responsibility!) to teach how we communicate and treat each other through modeling.
After that discussion I wrote an article for the school newsletter, and given it's applicability regardless of whether we're children or just act like it in midlife, I thought I'd share it here.
Following are a few tools for helping to build effective and powerful ways to communicate based on research from Dr. John Gottman. His research shows that when four types of negative behaviors or ways of interacting are present within relationships they affect the ability of people to build trust and communicate effectively.
Gottman named these behaviors the Four Horsemen of the Apocalypse because when they were present in marriages they were a strong indicator of potential for divorce. In the business arena these behaviors have been termed Team Toxins, for their corrosive impact on team cohesion and communication. Individually, these behaviors are:
Blaming or Criticism – Attacking the person rather than naming the behavior.

Defensiveness – Refusing to own one's behavior or actions.

Contempt – Includes sarcasm, belittling, gossiping, name calling, eye-rolling.

Stonewalling – Withdrawing, using the silent treatment, or refusing to engage.
No doubt at some time we've all participated in or been the recipient of one or all of these types of behavior! As parents, partners, leaders, or co-workers we can help our children and our community by bringing awareness to when we might be using or experiencing these behaviors.
Ways to Effectively Communicate
Here are some helpful ways to shift into more positive ways of behaving:
Talk with kids, spouse, or co-workers about the four negative behaviors and times when you might have experienced them, and what it was like.

Increase awareness of negative behaviors by using the Name Game – name the behavior using terms like "I'm feeling criticized" or "Your sarcasm feels hurtful to me."

Talk about antidotes or alternative behaviors.

An antidote to criticism is talking about the behavior not the person, so "You're annoying!" becomes "When you tap your pencil on the table it's annoying to me."

An antidote to defensiveness is taking responsibility for at least some part of the issue: own your part!

Use "I" statements to let others understand the impact that their behavior is having on you.

Keep it fun! Learning new ways of doing things can be clunky or awkward at first, so challenge yourself to have fun with it and be playful whether it's with your kids, your spouse, or people that you work with.
We can help create the communities we want to see by modeling appropriate behavior through our own interactions. Increasing our ability to communicate effectively through appropriate behaviors creates a stronger and healthier world … and who doesn't want that!?
Do you ever find yourself slipping into role of one of the Four Horsemen? Is there one that's your go-to? Have you been the recipient of an attack by one of the Four Horsemen? Share your experience in the comment section below and we'll see you next time at the corner of Midlife and Thriving!