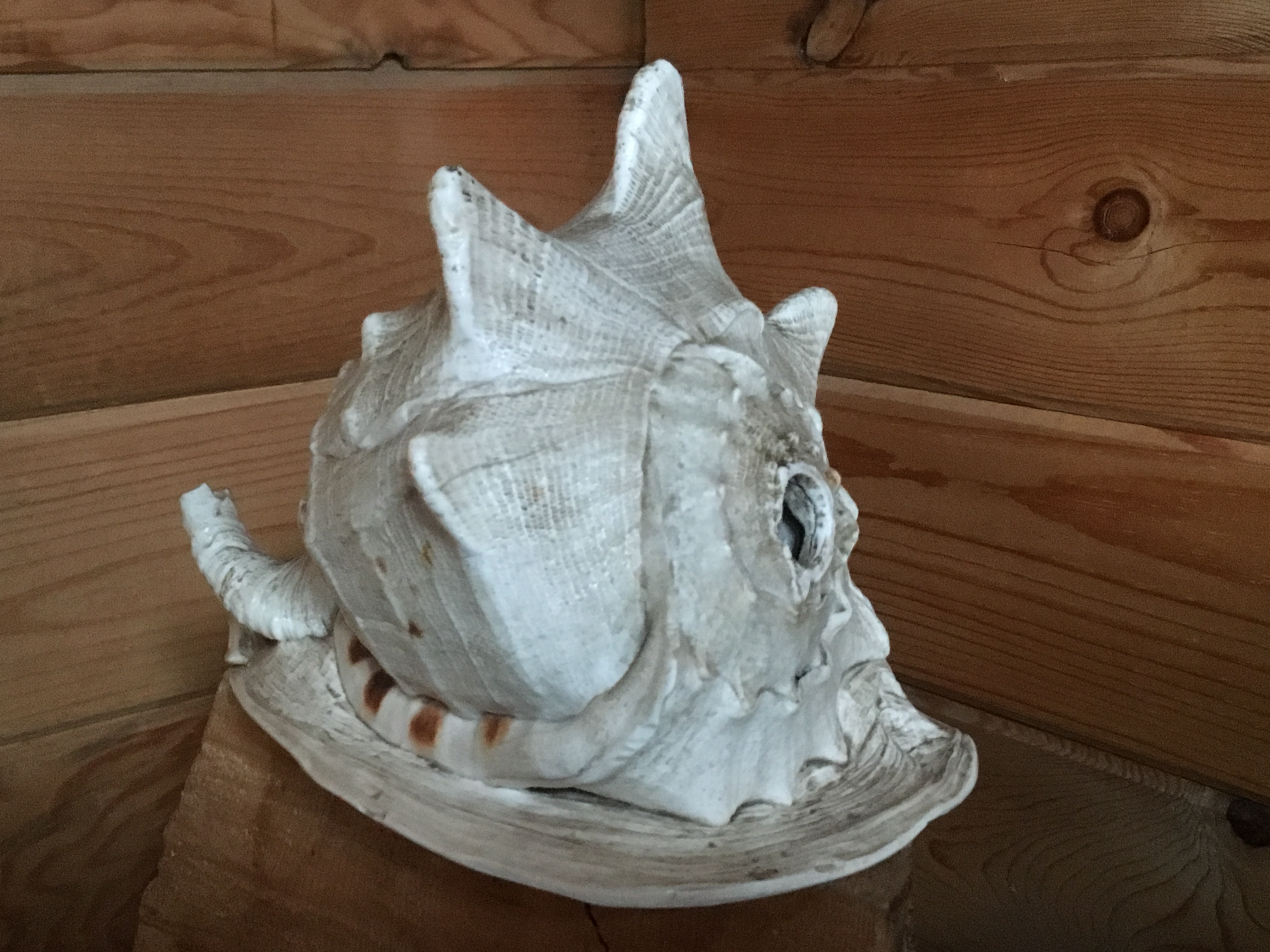 When I was growing up I don't remember that my family had any traditions beyond activities associated with the major holidays of Christmas and Easter.
My wife and I are doing something different for our family. We have incorporated many traditions and activities into our year. One of our favorites is on New Year's Eve, when we'll walk through each month of that year and recall the highlights, the achievements, and some of the challenges. It's a wonderful way to recap and appreciate the many gifts of the year.
Another tradition for New Year is that when we're at our cabin in McCarthy I'll blow my conch. It's a massive shell with a hole drilled in the side that when blown into creates a resounding and beautifully deep call that echoes up and down our valley.
What's so special about getting to blow the conch for New Years isn't so much the fun of making a joyous noise, although that's surely a big part of it, but the opportunity to tell again the story of how I came to be the keeper of the conch.
When I was growing up the conch was one of the few possessions of my stepfather and I used to love to take it outside and bring to life its resonant bellow. My stepfather was a rambler living in a converted school bus when my mother first met him. We lived with him for about 7 years and after their less than amicable separation we moved from the remote mountains of Northern California to the urban expanse of the Bay Area.
We didn't see or hear much from him over the next few years, but one day he showed up as he was passing through town. At one point he invited us out to his car and after opening the trunk he pulled out gifts for my brother, sister, and me. They were each special and unique treasures, things that were meaningful to him that he wanted us to have to remember him by.
To my surprise and delight, out of that trunk came the conch and he handed it lovingly to me.
My stepfather's act of giving was deeply touching and a first step on the long path of reconnecting with his kids (me included!). It was made more poignant by the fact that during the trip his house accidentally burned to the ground and he lost everything that he owned.
Everything that is except for the few dear possessions that he had given away to us that day.
So the conch holds many things for me … fond memories of childhood … connection to an important man in my life … and the very real lesson that we keep what we give away.
And to bring us back to the point of this story, the conch is an important part of my family's New Year tradition. When the clock hits midnight we all take turns blowing the conch to raucously ring in the new year. And as part of that tradition I tell the story of how I came to be the keeper of the conch, sharing stories of my childhood and the important lesson of how we keep those things that we freely give away.
As we step into the new year, what traditions will you or your family celebrate in 2018? What makes them important to you?